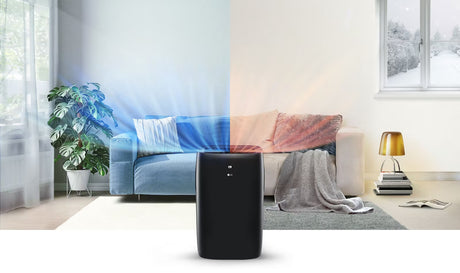 Bestselling Items
We know it takes time to find the right product for your needs. These are currently our bestsellers which might be ideal for you, alternatively use our menu or check out the buyer guides.
Air Conditioning Overview

From how it works to power outputs.

Single Split Systems

One separate indoor and one outdoor unit.

Multi-Split Systems

Multiple indoor units and one outdoor unit.

DIY Air Conditioning

Easy to install, all-in-one solution, without the need for an outdoor unit.

Portable Air Conditoning

No installation, indoor & outdoor units built into one.

Evaporative Coolers

Uses evaporation to cool the air, almost silent.

Dehumidifiers

Choose the right dehumidifier to keep your surroundings dry.
We are the UK's leading supplier of air conditioning, catering to heating and cooling requirements in residential and commercial spaces.
Our commitment to customer satisfaction drives us, as we strive to provide a reliable, professional, and friendly service. As a prominent renewable energy supplier in Britain, we offer competitive prices without compromising on energy efficiency.
Our extensive range of climate control products ensures we cater to all domestic and commercial requirements, making us your go-to destination for heating and cooling solutions.
We are entrusted by the leading brands across the cooling & heating industry.